If the event of the century is happening and nobody is able to live Tweet or Instagram due to a slow internet connection, did it ever even happen? In our "pic or it didn't happen" culture, free, fast WiFi for your guests is an absolute industry standard. As an event producer, establishing a strong foundation for connectivity is a key element to success, and this process is our specialty at SLICE.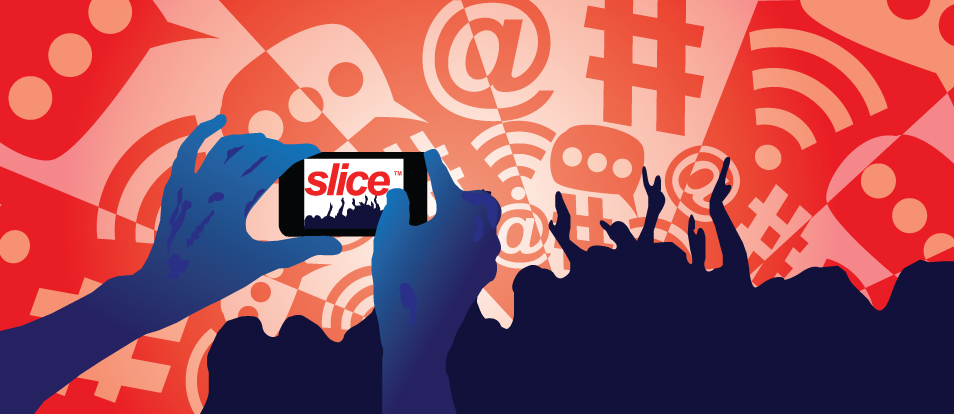 The proof is in the social feeds.
While considering each aspect in order to assess your event needs, we have crafted a guide for what to consider, who to cater to, and why you should trust SLICE to rise to the challenge of implementing and securing the best possible WiFi service for your conference or trade show.
Is my event small, medium, or large?
You're anticipating a certain amount of guests, but it is important to remember that a simple headcount won't do for understanding your needs.

At SLICE, we can help you assess the occupancy limits of your venue compared to the amount of expected guests to get an idea of how many access points you may need.
Typically, a large conference will have a minimum of 500 attendees, which could mean anywhere from 500 to 1500 connections operating at once on the smaller end of things, accounting for multiple devices running at once.
Access points, or routers, have varying signal strengths and usually support somewhere between several dozen and several hundred devices at a time.
We know that filling the place with more access points won't necessarily create better service, as closely placed routers could interfere with each other. In this case, directed antennas could help guide service to the appropriate area.
How do I calculate usage?
Distinguishing between low and high-usage attendees can help clarify your needs and save you money in the long run when dealing with WiFi for large trade shows, specifically.
High usage attendees might be streaming video presentations for their new software concept, while low-usage patrons could be endorsing the new product through social media.
The standard corporate event goer now carries a smartphone, a laptop, and a tablet, and uses each device for different purposes. They might need to tweet their location for friends or endorse someone on Twitter, while working on a presentation on their laptop and checking their email on a tablet. On the presenting side, operators may need large bandwidth limits to stream high definition video or set up a multimedia live performance.
By combining the staff and attendee usage limits, next we can paint a clearer picture of how much bandwidth you will need. We have the ability to aggregate bandwidth from several Internet Service Providers. Acting as a bandwidth broker, SLICE can synthesize your needs in a jiffy and give you the best price, guaranteed.
What are some design strategies that help to improve service and reduce congestion?
Planning your WiFi needs for large conference or trade show takes some time, but don't worry if you're in a hurry. Even if you find an opportunity that you can't refuse and have only three days to plan it, we at Slice know how to get things done right even on a serious time crunch.

We have a couple ingenious ways to maneuver traffic at large events that can help simplify your life:
Enabling bandwidth limitations as well as the size and loading time of your event's splash page can help decrease congestion. SLICE provides excellent solutions for marketing and advertising through your splash page, while not consuming too much bandwidth.
We also use a technique called band steering, which drives connections towards 5 Ghz, opening up quicker options for connectivity. This means that devices will have a more limited spectrum of connections, but be able to connect faster overall. Although we have ual band WiFi options which operate on both 2.4 Ghz and 5 Ghz, 5 is preferred because it is faster. Most devices can support both signals, but newer incarnations are geared towards the speedier 5 Ghz.
We recommend having the WiFi Network name, or SSID, available in high-density areas and advertised clearly elsewhere in the venue. To save time, making the username and password intuitive and easy to remember is the go-to route.
An event planner's worst nightmare is opening up Twitter to find that #WiFiFail is a trending topic at their function. What if you hear that presenters on the second floor trying to stream video to demonstrate their new product are running fifteen minutes behind schedule due to the dreaded "technical difficulties?" This spells disaster for their prospects, and ultimately yours too.

Fortunately, we at SLICE dislike this hashtag with a passion, and for a good reason. We are committed to making sure it won't happen to you.
As an event producer, be vigilant about the kind of feedback coming from the social feeds. If things are going south, #WiFiFAIL is something you may see, if people are even able to post! Often times if things are running smoothly people will not mouth off about the service. This just goes to show how standard optimum service has truly become.
Use social media to your advantage. If you notice negative feedback, join the conversation to pinpoint the problem, then let us know.
At SLICE, you will never have to worry about lapses in service. All our event connections are monitored from our Manhattan office, and we will always have someone on site to assist you.

No matter how large the event or how many people in attendance, SLICE can handle it. We know what it takes to manage WiFi for large events and have all the tools and expertise to answer your questions. Planning an event? Give us a call to set up a consultation.