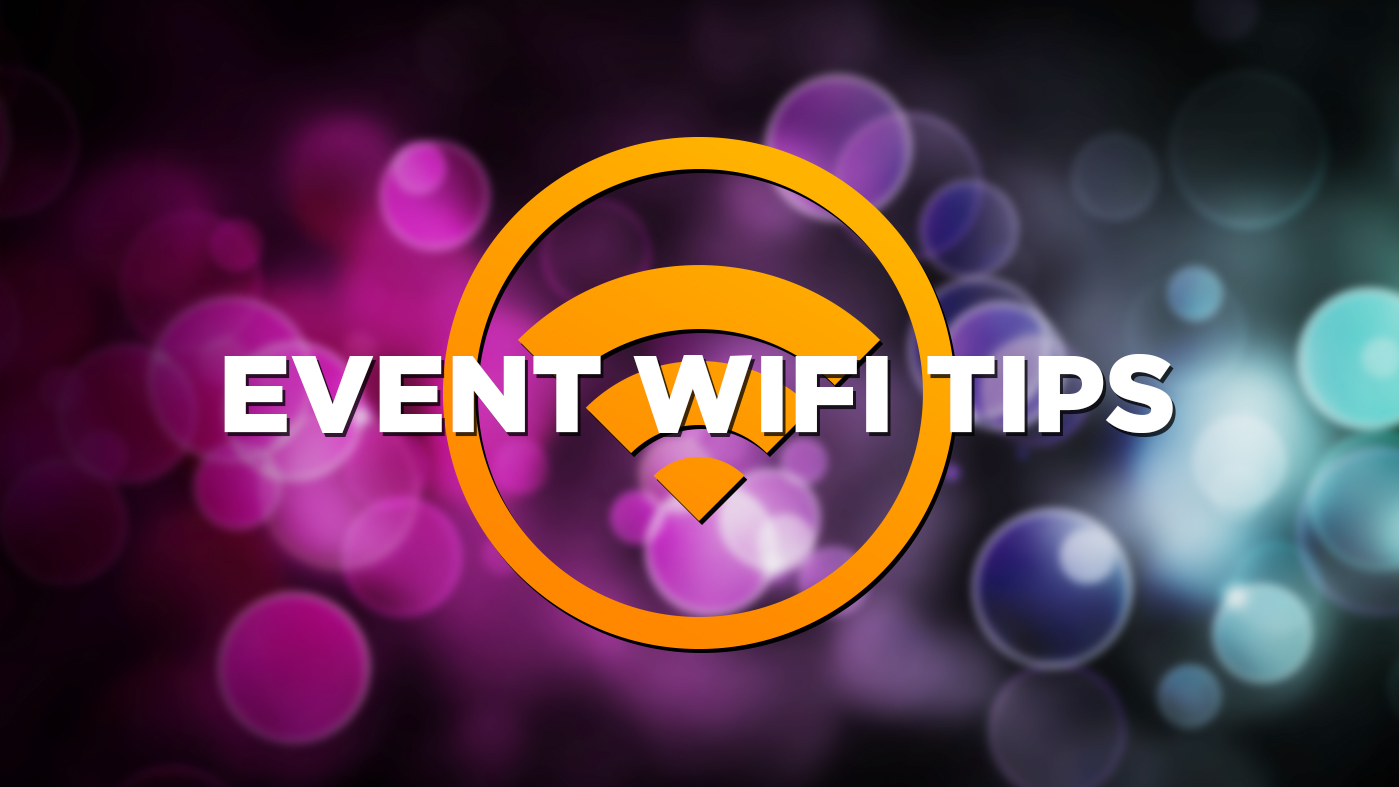 We don't mean to brag, but we have attended a lot of events. The best ones always feature a strong, reliable, and speedy WIFI connection. Follow our checklist to bring your company's next event up to their level!
The Conference WIFI Checklist
Imagine serving a simple cake, consisting of fundamental ingredients, like sugar and butter, to a table of guests. The guests will recognize it as a cake, eat it, and maybe even like it, but this cake will soon be forgotten. It is the extra effort -to elegantly present the dessert, to add decorative flourishes -that leaves guests raving about a cake for weeks. The same is true of setting up temporary WIFI at a conference or event. A working wireless Internet connection is necessary for standard conference practices such as giving presentations. The trick to impressing guests at your company's next affair with your WIFI connection lies in going the extra mile to ensure that it operates as seamlessly as possible. Whereas an inept baker can purchase an impressive cake, there is no short cut to throwing a remarkable conference. In our years of providing temporary event WIFI, we at Slice have seen event organizers rely solely on our state-of-the-art Slice WIFI and throw an event that satisfied guests. We have also seen event planners elevate our services to their full potential and throw an event that wowed guests. We have compiled a checklist to help your company's next affair join the latter's ranks.
For a Strong, Consistent WIFI Connection at Your Next Conference:
You'll Need:
Enterprise Grade Hardware for Access Points


We highly recommend purchasing Power over Ethernet (PoE) hardware to avoid cable overload.
Use 2.4GHz in conjunction with 5GHz.
On average, calculate 30 to 50 users per access point. Enterprise grade hardware, like these products by Ruckus Wireless, can support up to 100 users on an access point.
Confirm the proper throughput. Say you purchase a bandwidth package of 50 mbps, but your wireless routers can only support speeds on 20 mbps. Your routers are "bottlenecking," or inhibiting, the bandwidth's performance, giving you only 20mbps when you paid for 50.

A Cable Connection for Critical Devices


We at Slice firmly believe that it is better to be safe than sorry. If your conference or event features devices that process payments, stream video, or perform any other action crucial to your function's success, we strongly suggest using an Ethernet wire to connect them.


You'll Want To:
Hire a Wireless Engineer to Survey the Event Space


A wireless engineer will analyze your event space and brainstorm a custom plan for optimal WIFI performance.
You will want to schedule the site survey to take place well before the conference, so that the wireless engineer has plenty of time to devise and test the plan.

Have Onsite Support


Find an experienced WIFI babysitter. Assign a knowledgeable person the task of monitoring the WIFI throughout your event to ensure that any issues that may arise are quickly noticed and corrected.
Slice offers a remote management service to save you money while we stay on top of your network performance.

Educate Your Guests


You did not go through all of the steps listed above only to have your guests be unimpressed, or worse, disappointed, with the WIFI at your conference or event. Educate end users on the practices that will guarantee the network performs at its best. Politely ask your guests to turn their devices' off-site backups and torrents off and to use USB sticks instead of air drop when transferring large files.
The last thing you want the event you planned to be is forgettable. Impeccable WIFI goes a long way in hosting an affair to remember. Use this checklist and the video below as a guide and organizing a top tier conference will be a piece of cake!